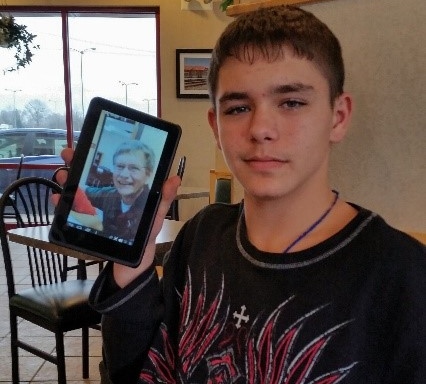 As we entered the Arby's, both mentor and parent looked at me as if to say, "Are you sure about this?" Their uncertainty had to do with me encouraging them to attend a meeting where I would encourage the at-risk youth in our tutoring/mentoring program, Daymon, a seventh-grader, to play video games in order to learn! The apprehension was largely due to the fact that the Baby Boomer mentor, Daniel, had little experience with a tablet and could not see its potential benefit for his mentee. You see, as Daniel's Mentoring Coach, I knew that he was not fond of "gadgets" of any sort. I can even recall him saying, "Coach, do you really think this will work?" Daniel may not have known much about technology, but he knew Daymon very well. He had been tutoring him since he was a third-grader. He became his mentor when he entered the sixth grade. And one thing that Daniel knew about his mentee is that he loved video games!
City Gospel Mission Mentoring Coaches encourage mentors to intentionally engage their mentees in a holistic manner by participating in activities which support their physical, mental, social and spiritual development. During a coaching session with Daniel, he expressed that Daymon did not really enjoy math. This was a challenge because Daymon's father recently decided to transition him to an online learning environment versus traditional school attendance. Daniel continued to faithfully tutor Daymon and meet with him regularly, while wrestling with what the next steps might be to motivate his mentee to complete his math assignments with confidence. When City Gospel Mission established a partnership with Powernet's Gift1 Program (which allows customers to designate City Gospel Mission as a recipient of a new tablet when they buy a tablet) I thought of Daniel's dilemma. Could the use of this tablet possibly increase his love of math and improve his performance if he was able to play educational games to develop these skills?
It was wonderful to observe Daniel as he saw his mentee light up as he began to take the tablet for a "trial run" on that day at Arby's. Both Daniel and his father were surprised at how much Daymon enjoyed playing one particular math game. In fact, he didn't want to end the meeting because it would end the game! It has been a month since Daniel was issued the tablet to bring with him to his weekly tutoring sessions and the news couldn't be any better. Says Daniel, "The tablet is cool. I can see how it is helping Daymon to strengthen his math skills. I only wish he had it 3 years ago."
As a Mentoring Coach, I have learned that there is no cookie-cutter solution for each scenario. However, listening to the mentor, praying for God's wisdom, and trying new things have all proven to be helpful in deepening the relationship between mentor and mentee.
Precious Jones is a Youth Mentoring Coach and Area Director at City Gospel Mission. She can be reached at pjones@citygospelmission.org.