Shane's Story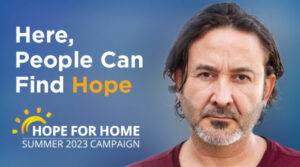 I suffered a house fire and lost everything.
City Gospel Mission helped me get on my feet with personal belongings, clothing, toiletries, things like that.
They helped me with a lot of spiritual grounding. I was shaken up. The faith-based classes were very helpful to help through the sense of loss.
The classes help you learn more about the Bible and Christ. The people here follow that example, they don't just talk about it. You see it day-to-day in the staff. I see it in guys who come into the shelter shattered and in a few months, they're in a place you never would have expected. They helped me in countless ways. The food, shelter, clean facility, and nice bed every night. The volunteers are exceptional, friendly, kind, generous, caring, not judgmental. I went to church with some of them. They put me into contact with many places and other resources, getting me to the dentist and the doctor. And they helped me with housing.
To the donors, from the bottom of my heart, thank you. You've helped me and countless people in ways that bring tears to my eyes."
Update: Shane left our shelter in early 2019 and moved into his own place. Last summer, he sent this note along with a donation:
I know my donation isn't much, but compared to my life you saved, well, wish I had more to offer. It's what I can do now. You are all important people. Selfless. I can start a list of names. But it wouldn't be fair to all those I didn't have the opportunity to know. You all work behind a giant curtain that should be revealed. Because from one saved soul speaking out, you all matter and saved me. Thank you.
Humbly.
– Shane
More Food & Shelter