Cortaize: A head in the clouds and also in a book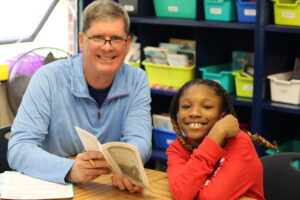 10-year-old Cortaize wants to fly to the NBA right now. His Whiz Kids tutor, Mark, is trying to keep him grounded for now.
This is representative of Mark's challenge overall.
"Like all 10-year-olds, he's full of energy," Mark says. "He can get wound up. I need to try to keep him focused on school, keep him on the right track as just another sounding board."
Now having ended their second year together with Whiz Kids, things are going well.
"He's always fine for me. We've never had any issues. We just get along. He has such a good heart," Mark says.
Cortaize says, "Mark is nice, funny, and smart. He helps me get good grades. I get all A's and B's. I had one C."
A "perfect" tutor match
Mark's wife, Karen, is the Whiz Kids site leader at Whitaker Elementary in Finneytown. She started tutoring 10 years ago and is now a mentor in our Rising Scholars program. Both she and Mark are also City Gospel Mission donors. Karen first paired the two as tutors, thinking they would be a "perfect" match.
Mark says, "At the end of our first year, he asked me, 'Are you going to be my tutor next year?' My daughter is a teacher, and she knows kids. I told her what he said, and she said, 'That means he trusts you.'"
After Year 2, they click so well that Mark decided to become Cortaize's mentor through City Gospel Mission.
Officially becoming his mentor was just a formality, though, as far as Cortaize is concerned.
"He is already my mentor. He calls, texts and visits and gives me confidence. He's my best friend."
Hoop dreams
For Mark, getting Cortaize's parents' buy-in was important.
"It's huge. I know both parents work. Everyone is trying to put food on the table. I know the struggles a lot of kids face, some more than others."
Cortaize really is a good basketball player, and he plays high-level AAU basketball. Talent runs in the family. His cousin plays for the New York Knicks.
"I want to play basketball in high school. Then college. Then the NBA," Cortaize says.
Enter voice of reason Mark.
"I tell him, 'If you're really that good, maybe. But we've got a long way to go.'"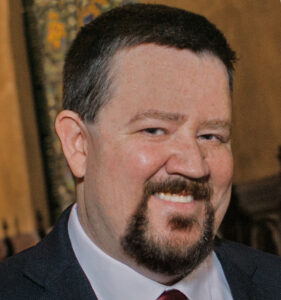 Tim Curtis is the Communications Director at City Gospel Mission. He can be reached at 513-345-1030 or tcurtis@citygospelmission.org
More Mentoring
More Stories of Hope
More Whiz Kids
More Youth
More Youth Mentoring