Mom's love, death fuel Jeremiah Scholar's fire
Jacob is thankful for his scholarship through Jeremiah Scholars, a program partnership with donors that uplifts students in need. Here is his amazing story in his own words:
My mom and my dad are the reason why I am the person I am today.
He lost his wife, and I lost my mom back in 2015, when I was 12.
I was always close to my mom. I was a mama's boy. I'm 18 right now. She would have turned 30 that year she died. It wasn't sudden. She had a lot of medical issues. She died from a blood clot in her lungs.
Because of her death, my dad and I have grown very close. We're always checking up on each other.
After she passed, we started going to church. From that point on me, my dad and little sister still go to church together. I was baptized and accepted Christ just a couple months after my mom passed.
I started working with my hands back in 2015 after mom died. During the summer, my dad and I would work on carpentry projects together.
Building a future with Jeremiah Scholars
My senior year at Ryle High School in 2021, I signed up for a homebuilding class. I got to know the instructors, and one helped me find Jeremiah Scholars.
I got the scholarship. It was meant to be, on God's timing.
I started a two-year welding program, and I just completed my first year.
The Jeremiah Scholars scholarship really helps me. I wouldn't be able to afford it on my own.
Dreaming big
My goal is hopefully to become a master of all trades. I don't want to be satisfied doing just one trade.
It's nice to go into the trades because you're pretty much guaranteed a job. And it's a great-paying field. It's hard work, but it is rewarding.
When my mom died, it made me proud to be her son. Knowing she fought so hard, it pushes me to know that I need to push forward like she did. She gave me that kind of strength.
Thank you for giving Jacob the opportunity to succeed with your generosity! You can change the lives of under-resourced students by supporting Jeremiah Scholars at bit.ly/jeremiahscholars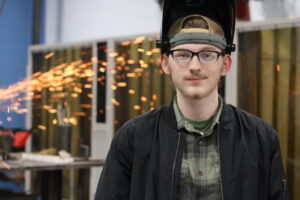 More Jeremiah Scholars
More Stories of Hope
More Youth