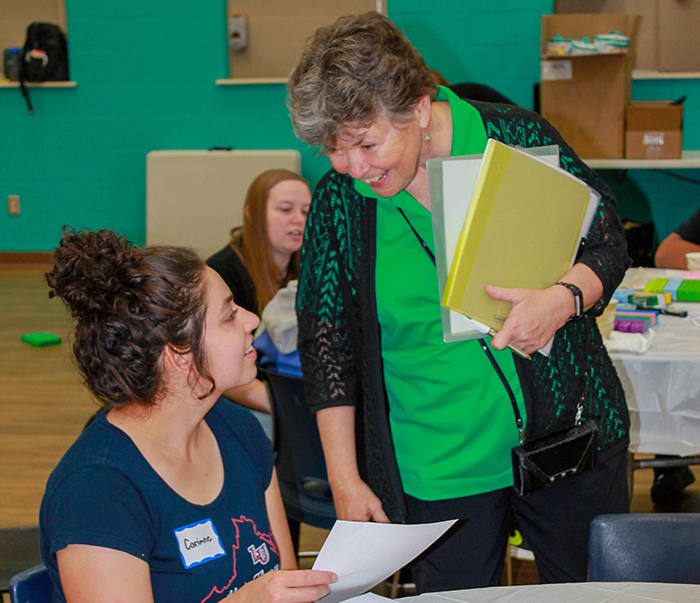 By Sam Baker
Co-director, Rising Scholars
For many of us, high school marked a turning point in life. It was the beginning of a lifelong journey of discovering who we were, figuring out what the world was like, and finding our place in it. It was a confusing time for most of us. And, if we're honest, the last thing on our minds was getting good grades. That said, it took the guidance and encouragement of mentors in the form of parents, teachers, coaches, youth pastors, and others to help us navigate our adolescence. They reminded us to look forward and to focus on the endless possibilities and opportunities that awaited us on the other side of graduation.
Although the world is a completely different place than it was back then, high school is just as, if not more, confusing for our students. They need guidance while they try and make sense of the world and encouragement as they begin to dream and craft a future story for themselves. They need you and me.
This is the heart behind the "Life Coach" volunteer position within City Gospel Mission's new youth program, Rising Scholars. Rising Scholars is a career readiness program for high school students based at their local church.
The Life Coach role
The life coach fills a critical role within the program. The life coach is a volunteer from the community who is paired with a Rising Scholars site to offer assistance with activities, help lead small group discussions, and provide compelling real-life examples of decision making and career planning.
We equip students by helping them answer 3 important questions:
1. Who has God made me to be?
2. What does He want for my life?
3. How does He want me to get there?
This is an opportunity for you to come alongside high school students during this confusing time and inspire them to dream beyond their current circumstances by using examples from your own life. Because, the secret to getting students to care about school is getting them to dream past it. It's getting them to become so enamored with who they could be and what they could have in the future that they are willing to sacrifice in the here and now.
Learn more
Consider becoming a life coach and help invest in the next generation of leaders. We need 10 life coaches for the upcoming school year and time is running out. Will you answer the call?
Join us at the City Gospel Mission campus (1805 Dalton Ave., 45214) for an info session Thursday, July 18 (7 p.m.-8 p.m.) or Tuesday, July 23 (7 p.m.-8 p.m.)
To learn more, click here to visit our website or contact Carole at cstrecker@citygospelmission.org or 513-345-1044.
Sam Baker is the co-director of Rising Scholars. He can be reached at sbaker@citygospelmission.org or 513-345-1042.