"I was scared of reading. Then I learned to read a lot better because of Whiz Kids."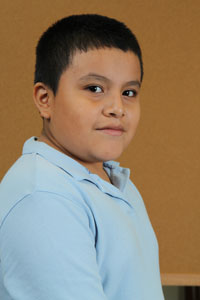 For Norvelin, the impact Whiz Kids tutoring is having on his life goes much deeper than just learning how to read better. It's impacting his entire family positively.
Norvelin often interprets for his parents. They are from Guatemala and speak mostly Spanish and little English. He helps them with the mail, at the grocery and in numerous other daily instances.
Because his parents speak little English, Norvelin also is the de facto home English teacher for his younger brother Quintano and younger sister Melina. While they get help and learn Spanish from their parents, they rely on Norvelin for help with their English. The three siblings only speak English with each other.
It may seem like a burden for someone so young, but Norvelin gladly embraces both roles. And because of the vital contribution from a Whiz Kids tutor, he is doing an extraordinary job.
Norvelin's English proficiency shows. When asked to read something, he was shy at first and wouldn't. After some prodding, he launched into a fluent reading of a book a few levels above his grade.
"I was scared of reading," he says. "Then I learned to read a lot better because of Whiz Kids. And I learned a lot about God." Now, he loves to read. "I read a lot," he says, any book about superheroes, robots or animals. And he is already dreaming big. "When I grow up I want to invent something, like a robot," he says.