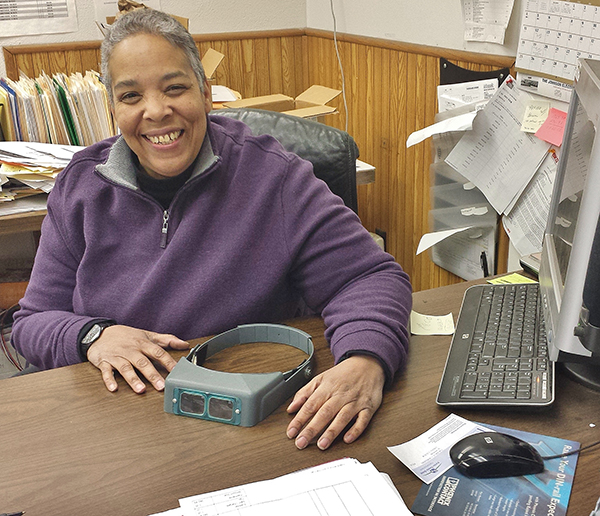 During the 1990s, Donna was smoking crack on the steps of the building that now houses OTR Connections on E. McMicken Ave. Today, she walks up those very steps as the company's Chief Operating Officer.
What a journey it has been for Donna, who was in and out of jail and addicted to drugs for many years before she went to JobsPlus to get her life straight in 2002. She landed at OTR Connections shortly after graduating from the program, and she hasn't looked back. "I didn't do it by myself," she says, pointing to Heaven. "I cannot take credit for it. The sweat and the tears were mine, but it took someone believing in me."
That someone was Howard Elliott, who in 2003 started OTR Connections, which creates custom cables and control panels. Howard was so moved by Donna's determination and honesty, and by her training through JobsPlus, that he hired her despite her past. "Now, she wants my job," Howard says, laughing but also serious. "She has come so far."
It all changed for her when she went to jail for the last time. She tried many job programs when she got out in 2000, but none of them worked out.
"Once I got over to JobsPlus everything started clicking," she says.
Donna was so ambitious that she learned all the jobs once hired at OTR Connections and showed a fierce work ethic.
Donna says, "When Howard interviewed me, he asked, 'Where do you see yourself in five years?' I said, 'Right over there in your seat.' Now I'm this close to his seat. I love it."
Now she does a little bit of everything as COO – ordering, marketing, helping on the floor, shipping/receiving and meeting with customers. When she thinks of how far she has come, she shakes her head in amazement.
"I used to get high right out there on these same streets and alleys," she says. "Now I can help people down here who are doing what I used to do. That's what Mr. Elliott and I want. That's what he built the company for. He's all about helping the next person. It's a good feeling."
Tim Curtis is the Communications Director for City Gospel Mission. He can be reached at tcurtis@citygospelmission.org.