"If I could have 10 of him..."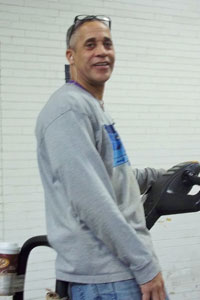 For Saturday Knight Ltd., a local bathroom accessory distributor, good works were rewarded with some great work. When the company began looking to fill an open position in its shipping department, they turned to JobsPlus.
Their faith was rewarded with one of the best employees they have had.
Tony works more hours than anyone in the company, which has more than 80 employees.
Tony is in the top 3 percent of most productive employees in his department.
Tony received a superior attendance award, missing just one day.
"If we let him work every day, he would," Human Resources Manager Amy Gabbard says. "He's always smiling, always happy. If I could have 10 of him …"
Says Tony, "I had been through several other job programs. It seemed like it was going nowhere. But JobsPlus not only helped with employment, they helped spiritually, too."
JobsPlus Associate Director Abe Woolfolk, Jr. singles out Saturday Knight Ltd. by saying, "Their commitment to employee success both on and off the job can be used as a case study for employer-employee relationships."
This is just one example of hundreds of long-term JobsPlus success stories.