Today's heroes: Step Forward volunteers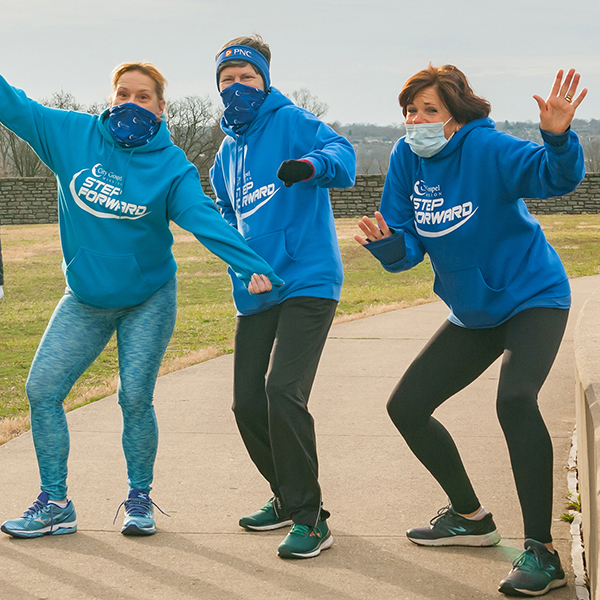 By Dave Pinson
Director of Step Forward, City Gospel Mission
During this national Volunteer Appreciation Week, we give our sincere thanks for each of you – over 2,500 strong – who give your time and effort to build into the lives of so many people who need uplifted. You are the bedrock of our organization, and the catalysts for the life-change and spiritual growth that happens every day at City Gospel Mission. You are God's hands and heart in action.
Today's heroes: Step Forward Volunteers
The Step Forward experience is designed for volunteers and donors to show God's love to men and women going through addiction and behavior recovery at City Gospel Mission while training for the Flying Pig Marathon races.
The 2020 season started so well, with almost 150 volunteers and about 40 men and women in recovery at the first practice in February. When we had to hit the pause button and stop training, because of the impending COVID pandemic, we had to engage in COVID protocols. It was mid-March; we weren't sure what was going to happen. Even though we were OK financially when the pandemic hit, we still had to raise funds so we could continue when we were able to start back.
Volunteers step up
During the hiatus, dozens Step Forward volunteers asked how they could help. People arranged or cooked meals and dropped them off every week. At Easter, groups of volunteers sang worship songs outside of the recovery houses, brought snacks and treats, and wrote letters and cards of encouragement.
Volunteers kept giving financially. Alpine Valley Water, a Step Forward sponsor, donated skids of bottled water to our recovery and homeless services center. A group of local companies banded together to purchase hundreds of Busken Bakery cookies and meals from Chick-fil-A.
When practices started back in late June, the volunteers came back and engaged with the program participants like never before. Friendships and connections were rekindled. One man in recovery said, "I can't believe all these volunteers still want to be with us. I'm used to people not wanting me to be in their life. They (volunteers) were the opposite and gave me life."
Our own Flying Pig
The Flying Pig marathon in-person event was postponed until October. That didn't stop Step Forward. We created our own Flying Pig race and had hundreds of people running either with us or on their own in October. Iris Simpson Bush, the Executive Director of the Flying Pig and Step Forward volunteer, was there and encouraged the team and hosted the countdown to start the race.
The volunteers made it happen. They continued to give more food, personal hygiene products, new socks, running gear, new running shoes and more. These volunteers showed God's love and helped to raise the most financially we've ever had in a season. Blessings back at you. Without you, we can't break the cycle of poverty and despair in our community. With you WE CAN.
To learn about the many ways you can volunteer at City Gospel Mission, click here.
More Recovery
More Step Forward
More Stories of Hope