Gayle & Madison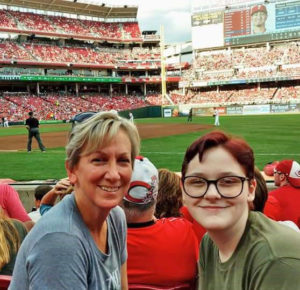 Over the past 5 years, Maddie's mentor Gayle has seen her at her lowest. Dyslexia. Depression. Doubt. Fear. So sitting on a bench at the University of Cincinnati during the senior's first college visit, reflecting on how far Maddie has come, Gayle was overcome with emotion.
"There have been a lot of ups and downs, a lot of laughter, a lot of tears, a lot of praying. When Maddie finishes her senior year that's just going to be awesome," Gayle says.
Theirs is a relationship that started with tutoring in Whiz Kids, grew into a mentoring relationship then became a genuine friendship.
"After mentoring for a while it's more than just being your student. She's your friend. She feels more like a niece or daughter. So when Maddie's going through tough times it gets my heart, too," Gayle says.
Maddie says, "She's like my best friend. I could go to her for anything." And she has.
"Having dyslexia was a real challenge keeping up with other students. Gayle helped me by pushing me to not give up on reading or to give up in general," says Maddie, who was diagnosed with clinical depression at 11. "I'm doing a lot better. I see a therapist, and that's really helped."
Maddie has done so well, she was released from her special education classes and is now a mainstream student functioning at the level of her classmates, and that includes some college prep classes.
"When I was taken off my special education classes, I was scared that I wouldn't be able to make it without extra help. But now I'm doing great and I'm passing all my classes. This visit to UC was amazing because I get to share it with her. She saw me when I was a little eighth-grader and bad at reading and now I'm getting ready to go to college."
More Mentoring
More Stories of Hope
More Whiz Kids
More Youth
More Youth Mentoring