Help a low-income family this Thanksgiving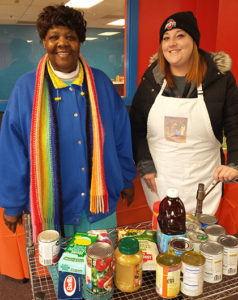 City Gospel Mission's Thanksgiving Exchange is a grocery store for people with very low-incomes. Participants are referred by local churches and pay $10 to shop for their Thanksgiving groceries. The Exchange empowers shoppers to celebrate Thanksgiving with their families without destroying their extremely tight budgets.
Ways you can help
We anticipate over 400 shoppers at the Thanksgiving Exchange this year. Providing for that many families requires thousands of food items to be donated as well as the money to purchase what is not donated. Here's how you can help:
Our Impact
By the Numbers
Each Thanksgiving, we provide food for more than 400 families in need. In total, our Thanksgiving Exchange helps provide more than 4,000 meals each year.
Our Approach
We partner with local churches who refer the people, whom they know could use the help, to shop at the Thanksgiving Exchange. The churches use the Thanksgiving Exchange as a tool to build deeper relationships with those families, and they commit to following up with them throughout the year to assist their physical, social, mental, & spiritual growth and health.