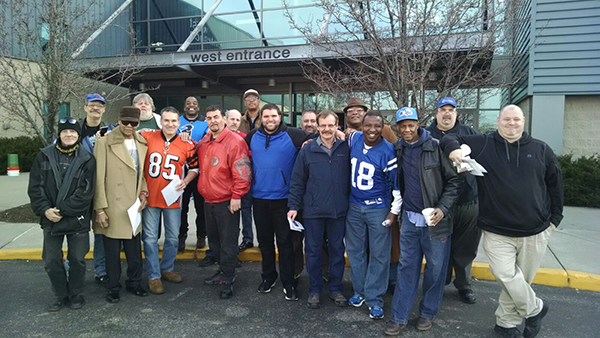 On America's national holiday – Super Bowl Sunday – families and friends got together and indulged in the fun of football and the festivities of food. Many people spent it at home or in social gatherings where the whole day was invested in football. As families and friends gathered, many who people would have been distant from the vibrancy that rings across the pigskin empire were able to participate. People like our shelter guests. That's because Crossroads' irreverent, schticky, preaching competition – "Super Bowl of Preaching" – provided an outlet for them to be engaged in the experience.
Fourteen men from the shelter were able to enjoy tailgating outside the church and in the atrium, and to hear the sermon competition of two pastors, complete with football bravado and atmosphere, fake Super Bowl commercials, a halftime show, and a referee. Shelter guest Kevin said, "I had a great time. That was the first time I had stepped into a church in more than seven years. Thank you for taking me!" Charles said to another guest, "Hey, that was so divine!" Matt said, "That was great church! I loved it! I can't wait to come for more!" Larry, a former shelter guest, said, "I was blessed! Call me again. Stay in touch. I want to do more things like this!"
These men gained a sense of community on a weekend when they could have felt deeply isolated from families and friends. Anthony captured the spirit of what took place best when he said, "This is about friendship. Thank you for inviting me. I'm so glad I came, and I feel more connected to my brothers here!"
Many thanks to former shelter guest Don, along with Crossroads attendees, brothers Scott and Brian, who are working together to ensure continued interpersonal engagements between current shelter guests and the community.
On this day, our guests were not isolated but were very much connected to others in friendship. May the friendships that were cultivated on this special day result in tremendous followership of Christ.
Herman Najoli is a Homeless Services Case Manager at City Gospel Mission. He can be reached at hnajoli@citygospelmission.org.