Standing together, fighting together
By Roger Howell, President, City Gospel Mission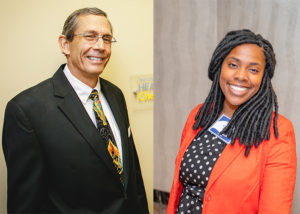 Over the past 25 years serving the poor and disadvantaged, I have grown in my understanding of systemic racism. So, seeing the heartache of the black members of my staff and community, I have been saddened and angered, especially over the past month.
For everyone hurting, know that we hear you and our hearts hurt along with you. I cannot imagine the depth of pain and frustration and grief and fear that you have and continue to experience. I just want to let you know how this has impacted me and my desire to keep working toward becoming a better organization, city and nation.
Committed to change
City Gospel Mission is committed to being a racial reconciler in Jesus' name. We strongly oppose racism in all its many forms. We serve a very diverse population of 10,000 people each year, 40% of whom are black, so we often hear firsthand the pain, frustration, anger and grief that racism and injustice causes. We rebuke it for what it is – evil.
We are committed to being a unifying organization. We have a diverse board of directors, leadership team and workforce. And we have an environment where our staff has open, intentional discussions about race so we can be better co-laborers in Christ – all with the goal of bringing glory to God and changing lives through His redemptive power.
Any kind of real change has to the come within the heart of each person first. Then words and deeds HAVE to follow for that change to take root and become permanent. Jesus Christ's heart, words and deeds changed the world. If we keep all that we do rooted in Jesus, we can overcome biases and blind spots to see our shared humanity, embrace it, and be unified.
Let's pray together
Lord, we thank you for the healing power of your love, and we are grateful to get to share that love as the unified body of Christ. We humbly ask that your love comforts the black community and all others who are heartbroken. We humbly ask for you to soften prejudiced hearts, to open minds to listen to and empathize with those who are different from ourselves. We pray for an end to racism through the transformative healing of your infinite grace and mercy.
By Courtney Walton, Youth Mentoring Director, City Gospel Mission
I am a woman of color on staff at City Gospel Mission. I have been heartbroken, outraged and grieved by the events that have taken place this past week, and the past few months. From George Floyd to Breonna Taylor to Ahmaud Arbery to Christian Cooper and all the unnamed faces and unknown experiences that have not been publicized. I am exhausted. People of color on staff are exhausted. We have had enough, and our white brothers and sisters have also had enough.
As an organization, we have taken the time to hit the pause button and reflect on what these difficult times mean for us as a nation, and what they mean for us as an organization. Our leadership has paused to look in the mirror to see what spots need to be cleaned; they have gone into the dark rooms of their souls and started flipping on switches to bring the hidden stains into the light. As an organization, we refuse to come out on the other side of this unchanged. We refuse to offer lip service of solidarity and support publicly without doing the necessary work internally.
In fact, over the last year our organization has moved on the convictions to form an anti-racist, racial-unified team called G3:28 modeled after the scripture in Galatians 3:28 which says, "There is neither Jew nor Greek, there is neither slave nor free, there is neither male nor female; for you are all one in Christ Jesus." We believe that we are one; that we are a part of a beautiful diverse family that makes up the glorious body. There is no race superior, no group that is to be elevated over another, and no room for mistreatment or discrimination rooted in these racist and ignorant beliefs. We will not stand for that.
This is our work now & in the future
What started from the hearts of a few has quickly mobilized into a movement throughout our organization. We started this work long before the recent events occurred, and we are committed to continuing the work long after the news stories change. As long as we are standing, this will be our work.
We have been challenged to do better, and we will. We have been moved to be better listeners and learners, both internally and externally, and we will. We have been charged to not be silent on these matters, and we won't. Psalm 4:4 says, "Be angry, and do not sin," and we will commit to being angry at the things that grieve the Lord, while doing nothing to grieve his heart.
We don't just want to be known for the amazing people that we get to serve. We don't just want to be known for the wonderful relationships we have with churches, donors and other organizations. We don't just want to be known for the work that we do. As we continue to work to break the cycle of poverty and despair, we want to be known for how we do that work. We want to be known as an organization that is anti-racist, that shoulders the burdens of our black and brown brothers and sisters, that loves all our neighbors as we love ourselves and that stands against injustice and the sin of racism.
To our brothers and sisters of color: know that we as an organization deeply value you, we hurt with you, and we stand beside you during this difficult time. We are sorry for the messages you have received about who you are from many people in this world. May you know that you are loved, and you are not fighting in this battle alone.
More Stories of Hope