Rodney: 'I'm at the highest point I've ever been'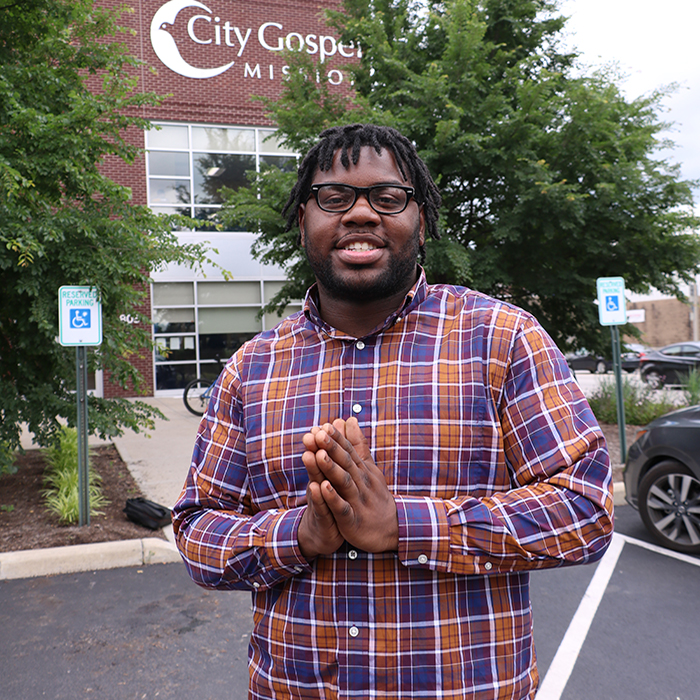 I first came to City Gospel Mission in December 2019 when I was 21, because I needed someplace to sleep and bathe.
I was at the lowest point of my life. I felt embarrassed to be in a shelter. But I knew I was better than my situation.
I had my child's mother bring my son down here one time to see me, and that was embarrassing because he had to see me in the parking lot of a homeless shelter.
The regulations in the shelter helped me understand discipline a lot more and people a lot more. Some of the people in the shelter could have dirty clothes, and I could be a well-hygiened person, but I'm still homeless along with them. These people are great people. It's not about how they look or how they smell. It's all about their heart. They just need a stepping-stone, a head start.
A head start at the mission
City Gospel Mission gave me a head start, what I needed to get out there in the world. No matter the staff member, it was always, "How can we help? What can we do next? What do you need?"
I took part in the Day Program and the Work Program. My case manager Moriah helped me through thick and thin. When I thought I wasn't going to be able to get through it, she was there. I was able to save a lot of money in the Work Program and she helped me stay on track with saving. I really appreciate her.
I was thinking about my son the whole time I was here. It gave me extra motivation because I knew I never wanted him to come back here to see his dad. So, when I left the shelter in March of 2020, I went to another program which teaches you how to be a better father.
A stronger faith
I'm at the highest point I've ever been. I was able to get my high school diploma, I completed an apprenticeship, and I got a job and an apartment.
I had a will of not giving up. I came to City Gospel Mission because I had faith in God, and being here helped strengthen my faith.
I want to thank everyone who supports City Gospel Mission.
More Food & Shelter
More Stories of Hope