My teen journey from service to faith
By Isabella Moses
City Gospel Mission Intern
From a young age, the values of City Gospel Mission were instilled in me. My mother, who has been working at City Gospel Mission for 10 years, brought her faith and the spirit of her work home. I grew up learning about the meaning of serving others, giving grace, and relying on God. These ideas permeated into my first steps of adulthood.
Since 2010, I have joined my mom as a volunteer at City Gospel Mission's Christmas Store. The Christmas Store helps low-income parents buy Christmas gifts for their children at a low price that they can afford. My mom and I did our part in wrapping the shopper's gifts and praying with them afterward. The small moments I spent helping strangers amounted to so much in my heart. Hearing how grateful they were to get gifts for their children reminded me to give thanks to God for everything I already had.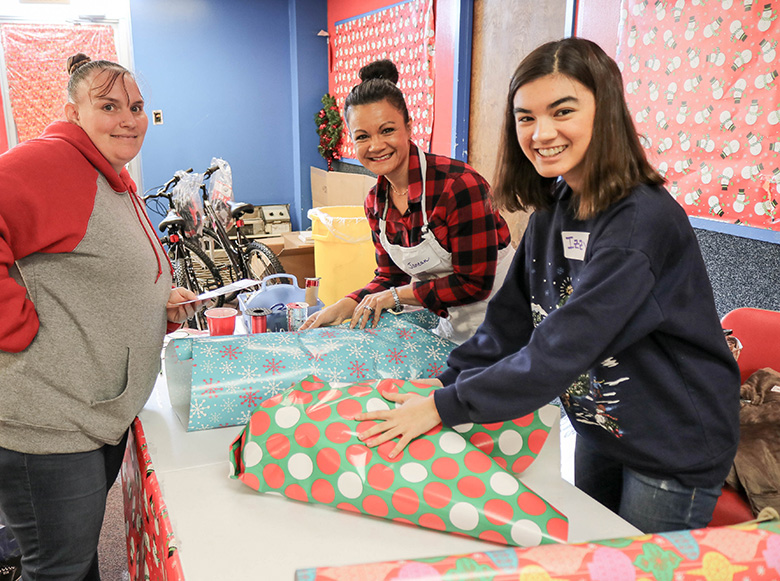 Darkness
While I enjoyed our tradition of volunteering at the Christmas Store, this gratifying feeling didn't last past the holiday season. Throughout high school, I found myself longing for more out of life, and I chased after new experiences that never left me feeling fulfilled. I was so blinded by my disappointments that I couldn't see the blessings God laid out before me. The world had me in its clutches, and I felt it was mistreating me with all of life's challenges.
Going into college, I was running on pent-up frustration. Attending my dream school didn't work out, and I saw all of my expectations for my next step of life crumbling before me. I wanted to be anywhere but Western Kentucky University.
My first week on campus, I reached out to friends wondering which church in Bowling Green I should go to. I settled on the Bowling Green Church on a whim that first Sunday. Little did I know, that seemingly insignificant decision would lead to the most important growing period of my life so far. Through countless Bible studies, I was able to get to know Jesus on a personal level. I also realized that I had no idea what being a Christian meant by the Bible's standards.
Light
By immersing myself in Scripture every morning for quiet times, I caught elements of my upbringing coming into light. The principles my mom taught me and which I learned at City Gospel Mission weren't just good morals or the mantra of her workplace. They were directly from the Bible, teaching me ways to grow in my faith.
Three months after I began my Bible studies, my heart was softened, and I found clarity in my real purpose as a child of God. I wasn't meant to impress the world with my independence, or accomplishments, or what college I went to.
And what seemed like a punishment from the world, turned out to be a blessing from God. If I never went to school in Bowling Green, I might have never made the decision to be baptized and dedicate my life to the Lord.
These experiences in service and discipleship brought me to the most wonderful adventure of faith I could embark on.
More Youth