Jackie Robinson and City Gospel Mission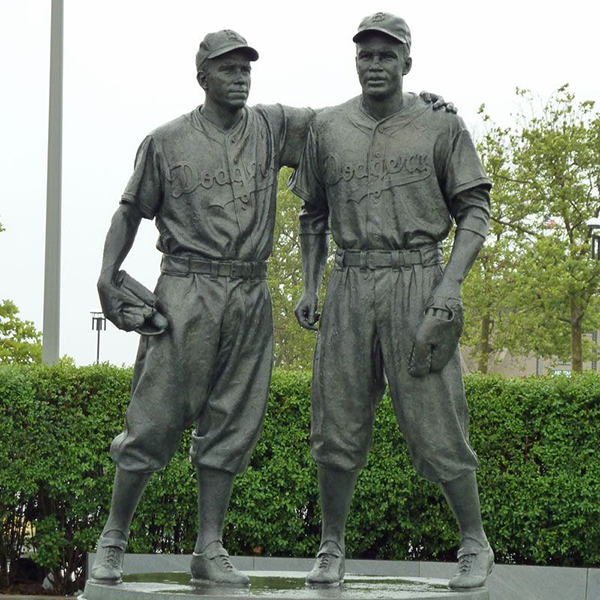 During this Black History Month, we want to celebrate and share a story about the iconic Jackie Robinson, who broke Major League Baseball's color barrier, and how he is linked to City Gospel Mission.
There's a statue in Brooklyn, N.Y., of a scene during a Brooklyn Dodgers-Cincinnati Reds game that may or may not have occurred. It happened on a spot now located in our shelter building. Our campus is located where Crosley Field once stood, the home of the Reds from 1912-70.
Now, some historians dispute that the following events happened. But we tell the story regardless because it illustrates the power of inclusion and perseverance in the face of seemingly insurmountable obstacles.
May 13, 1947
The event occurred May 13, 1947. That was the year Robinson became the first black man to play in Major League Baseball.
As Robinson came to bat to start the game, the Crosley Field crowd cheered. But in the bottom of the first inning, as Robinson took the field, a racial slur came from the crowd, directed at Jackie. Then another slur was shouted, and then another, then another.
At that moment, Pee Wee Reese, playing across the infield from Robinson, stopped the game, walked over to Robinson, and put his arm around him. The crowd got silent, and moments later, the game resumed.
Inclusion and perseverance
That embrace is  commemorated with a statue in Brooklyn. We also commemorate it with a plaque and wall decal in our Diner because of what it symbolizes. We believe that God created people – with our vast differences – to include each other as part of the human experience.
Reese's walk across the diamond and brotherly embrace was an act of inclusion. Every night, at this same location in our Diner, our volunteers, staff, and shelter guests enjoy fellowship over a meal, together as all God's children. We include each other in our stories, faith, and friendship.
The decal and plaque also represent Robinson's courage and fortitude to press forward to succeed despite great obstacles. We remind and are reminded by our shelter guests who may be down that they have the courage and fortitude to overcome their circumstances to succeed as well.
The legacy of Jackie Robinson
Robinson was the catalyst for the inclusion of black players in baseball. And he became an important figure in inspiring racial solidarity in the broader civil rights movement, remaining an active voice against racism and injustice after he left the game.
Robinson is one of the best players in the history of baseball. He was inducted into the Baseball Hall of Fame in 1962. His No. 42 has been retired by all Major League teams.
His legacy in Black History on and off the field will endure forever.
Robinson once said, "The most luxurious possession, the richest treasure anybody has, is his personal dignity."
Amen.
More Food & Shelter
More Stories of Hope