Hope starts with a meal
David
David is blind, so being homeless was hard and dangerous. At City Gospel Mission, he found the safety and help he needs.
"It's good to have shelter, especially at a place where you know you don't have to fear anything, where you know you're safe. And you don't have to worry about where your next meal is coming from.
The people at City Gospel Mission have been wonderful. The staff has been wonderful. Many of the classes are Christ-based. I've rededicated my life back to the Lord, and my life is a whole lot better.
I was afraid of going out by myself. But now I go out and take the buses and meet people.
My next step is putting in an application with the Association for the Blind, and the next step is renting a house.
I would like to thank you for donating to City Gospel Mission. And God bless you and thank you for all that you're doing for us."
Adam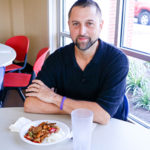 "You're not supposed to be sleeping on benches, on the ground or concrete. You wake up every day hurting. Having shelter and three meals a day is life-saving. Truly, thank you for everything you've done. I don't know where I would be right now without City Gospel Mission and your help."
After being homeless for a year, Adam came to our shelter get the structure and accountability he knows he needed. He found it in God.
"I knew what I was missing. It was definitely God. I feel like a completely different person. It's not just a quick fix here, it's not a band aid. They help you right off the streets, but this is more of a long-term thing here. And they care about each and every person. It's meant the world. It's changed my life."
Esteban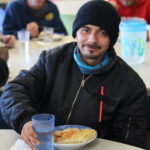 Esteban came to City Gospel Mission's homeless shelter to break the bond of addiction. His healing journey started with a simple meal.
"Now that you have a meal on the table, it's like, 'Thank you God,' because I went from digging in the trash to sitting down with my brothers around the table."
While staying at the shelter, Esteban was able to get a car. Now, the next step is to get a job. He's working with case managers to do that. Then, an apartment.
He has a simple message for all the people who give to the Mission: "Without you, your support and your help, we wouldn't be anything. We wouldn't be what we are right now."
Shane
Shane came to our shelter after losing everything in a house fire. Now, he's rebuilding his life. "Food, shelter, clean facility, nice bed every night. I can't think of a better place I could have stumbled upon. From the bottom of my heart, thank you. You've helped me and countless people in ways that bring tears to my eyes."
Matt
Matt found hope again after losing a job which led to losing his housing. "City Gospel Mission has, in a matter of 30 days, has turned my life around. They're not just there to get you through the night. They're there to change your life and sustain you going forward."
Ron
"Once I got to City Gospel Mission, it actually helped me turn my life around. Being able to give back to the Mission… It kind of warms your heart if you can do anything, a donation, or donate your time. It helps bless everyone else, including yourself."
More Food & Shelter
More Stories of Hope