Donate
David: A place where he is safe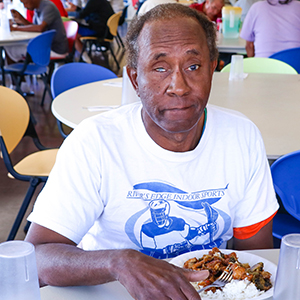 David is blind, so being homeless was hard and dangerous. At City Gospel Mission, he found the safety and help he needs.
"It's good to have shelter, especially at a place where you know you don't have to fear anything, where you know you're safe. And you don't have to worry about where your next meal is coming from.
The people at City Gospel Mission have been wonderful. The staff has been wonderful. Many of the classes are Christ-based. I've rededicated my life back to the Lord, and my life is a whole lot better.
I was afraid of going out by myself. But now I go out and take the buses and meet people.
My next step is putting in an application with the Association for the Blind, and the next step is renting a house.
I would like to thank you for donating to City Gospel Mission. And God bless you and thank you for all that you're doing for us."
More Food & Shelter
More Stories of Hope