Christin's Story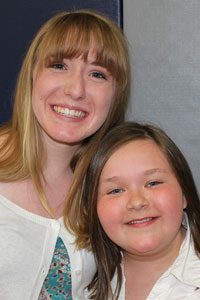 Christin was scared to go to her first summer camp because she had never been away from home. She also didn't know God.
After attending camp, she was excited about both. All because her tutor, a teenager wise beyond her years, decided to take her care and concern to another level.
So when Christin told Sarah she wanted to attend our annual Whiz Kids summer camp for elementary students at King's Domain in Oregonia, Ohio, but only if Sarah went, too, Sarah jumped at the chance to be a counselor.
And that decision proved to be an eternal one. It happened after the nightly spiritually themed play. When it ends, kids are asked if they want to have a relationship with God. "When I saw her stand up, I started crying. I was just overwhelmed," Sarah says. "I was crying, jumping up and down, yelling, dancing for joy, it was amazing. I've never cried for joy in my entire life, and that was a very emotional moment for me and for Christin."
Says Christin, "I am forgiven. When I rang the bell I felt like a new person because my old person had sins and my sins are gone."
Christin is just one of the hundreds of at-risk youth who are impacted at our summer camps.
"As I was going through camp, I realized how much God was working in this place, and it was an amazing feeling to know how many kids were learning about God and just being led in that direction. Especially when you see all those kids stand up when asked 'Who wants to have a relationship with God?' And so many of them stand up. It's so powerful," Sarah says.
More Camp
More Stories of Hope
More Youth