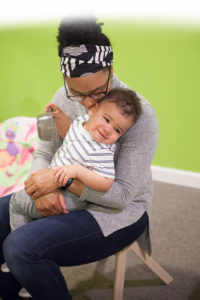 Did you know that 90% of developmental growth happens by age 5? For children, learning happens through play and sensory experiences: seeing, hearing, tasting, smelling, touching, and movement. At the same time, parenting worry, stress, and loneliness during these early years can be overwhelming. This season of children's lives is the most fruitful and the most vulnerable. In an effort to walk with families through these early years, City Gospel Mission is excited to share about our newest program:  Little Village – Stay & Play.
This new venture is a play space designed for fun, early learning, and community connection for families of children from birth to 5. There is no charge to participate, and it has flexible hours to meet families' schedules. This program will provide the opportunity for play, learning, and community relationships for families to thrive together.
At Little Village, the littlest learners and their families can explore a variety of playful areas including an art room, science center, tumble area, construction zone, dramatic play and games, reading room and infant space.
It takes a village
These play areas and enrichment classes provide an ongoing place for families and children to find community. It makes such a difference to know as a family that we are not alone; to find others whose kids enjoy the same thing and find that we are celebrating the same challenges together.
Will you help us provide this valuable program to young families?
We are also in need of toys and books for children ages 0-5.
To learn more about Little Village, please contact the Program Director Melanie Gomez at mgomez@citygospelmission.org.