Today's hero: Crystal Zemites, Recovery volunteer
By Robin Wagner
Director of Volunteer Services, City Gospel Mission
During this national Volunteer Appreciation Week, we give our sincere thanks for each of you – over 2,500 strong – who give your time and effort to build into the lives of so many people who need uplifted. You are the bedrock of our organization, and the catalysts for the life-change and spiritual growth that happens every day at City Gospel Mission. You are God's hands and heart in action.
Today's hero: Crystal Zemites, Recovery volunteer
"I get so much out of our relationship, more than I could ever begin to give to it," – Crystal Zemites, on being a mentor to women's recovery program graduate Sammie
Crystal thought volunteering with our Step Forward team would be a pretty good fit for her. She was an avid walker who wanted to support people in addiction recovery. Rather than just being a fit, however, Step Forward has become so much more. It has become a big part of her life.
Taking her first step
In 2019, Crystal learned about Step Forward from her physical therapist, Jeff Schafer, who is a long-time Step Forward volunteer. She soon began walking alongside the women in our recovery program as they trained for the Flying Pig Marathon races.
Walking with the women every week allowed Crystal the time to get to know them and vice versa. Quickly, they built genuine friendships. Crystal had a particularly strong connection to Sammie.
They were by each other's side all the way through Flying Pig 10k. And, again at the finish line when they accepted their medals for participating.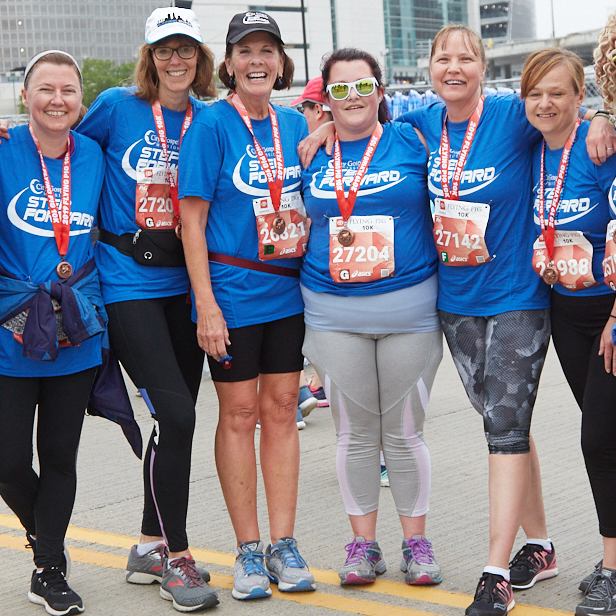 Going the extra mile
That was nearly one year ago. Today, Crystal is Sammie's mentor, a caring and supportive voice for Sammie as she navigates her way through sobriety and recovery.
Says Crystal, "She has welcomed me into her life. While she has been hard at work overcoming challenges and growing, I have had the privilege to be one of her many cheerleaders. I have experienced growth, great joy, and many blessings in getting to share in her journey."
When the Step Forward season ended with the Flying Pig in May, Crystal wanted to continue building into the women's lives. She had built so many relationships that she couldn't imagine not seeing the women until the following  year's Step Forward season.
She learned that other volunteers had similar feelings. So, Crystal led the formation of the JAG group (Joyful Ambassadors Group). The goal of JAG is to connect, pray, share, eat and do fun activities together. They visit the women twice a month, including this past Tuesday when they brought them "goodies, stuffed animals and angel pins."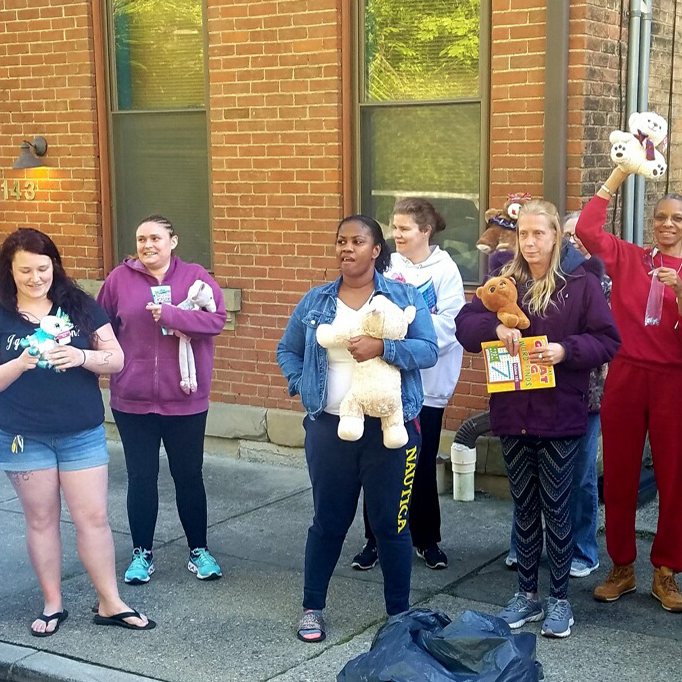 Says Crystal, "New friendships are being cultivated, and existing friendships are deepening. The women in recovery and the volunteers are connecting and learning from each other, and the blessings are beautiful and abundant."
---
To learn about the many ways you can volunteer at City Gospel Mission, click the volunteer button below. To learn more about our recovery program, click here or email cwhite@citygospelmission.org. To learn more about our Step Forward team, click here.
More Recovery
More Stories of Hope