"My heart is getting put back together."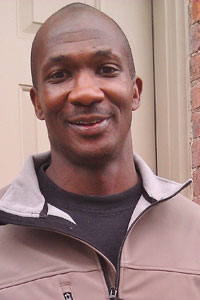 For R.J., his focus now isn't on what was or what could have been. It's about what can be. One of Cincinnati's greatest high school basketball players, R.J. isn't thinking about high school triumphs or NBA glory that never came. His focus is overcoming his addiction and giving back to the game he loves.
"All the things that had been bothering me before are starting to go away," says R.J, 43. "My heart is getting put back together. I just want to be a happy person."
That heart had been broken many times, admittedly by his doing. He went from R.J. the basketball star to R.J. the addict to R.J. the hopeful.
•••
In April 2012, R.J. came to City Gospel Mission to defeat the demons of alcohol and cocaine.
It started in high school, when he was kicked off Woodward's basketball team as a junior for alcohol use. He got back up, however – returning to lead the team to the state title in 1988. That team still holds the state record for most points scored in a championship game – 107. R.J., a dynamic shooting guard at 6-foot-2, averaged 28.5 points during the tournament and was named MVP. The Enquirer named him one of the city's Top 100 players of all-time.
Then, he was knocked down again – declared an academic non-qualifier after committing to the University of Tennessee. But he got back up again – playing two seasons of junior college, including one in which he paired with future NBA star Sam Cassell to form a memorable backcourt. He eventually transferred to the University of Dayton. There he averaged 20.2 points as a junior during the 1990-91 season and was on his way to being regarded as one of the best players in nation.
Then, again, he was knocked down – ruled academically ineligible five games into his senior season. He was averaging 30 points. His NBA dream was effectively gone.
"That was probably the worst time in my life," says R.J., who says from that point his alcohol and drug use slowly got worse. "Me not doing what I was supposed to do took away my opportunity to make the NBA. … It was a once-in-a-lifetime opportunity. That's why I want to work with the young kids to keep them on the right track."
•••
These days, R.J. takes great pleasure in refereeing youth games. He credits City Gospel Mission with helping to restore his relationship with God and, in turn, the game. He started going by R.J. instead of Chip, as he had gone by in the past, because he wanted to change to a new man. "I had forgotten about God, His Grace and love, because I was so deep in darkness that I (thought I) had no way out. Since I got God back in my life, that passion for the game has come back," says R.J., who graduated from the men's recovery program in April 2013.
He hopes to become a coach or a college recruiter. "I think it's time for me to go after some of my dreams," he says.
He also thanks City Gospel Mission – staff, volunteers and supporters like you – for helping him think of the present instead of the past. "We can't get any of this time back, not even a second. So why not make the most of this time that you have on earth that moment?" he says.
He is getting back up again, hopefully to stay this time: "I am redeeming myself. There are a lot of naysayers out there right now, but because of the grace of God, I'm here, and I'm going to make it through it."