Finding hope, healing and purpose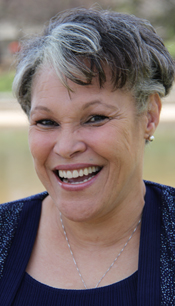 Mayra has experienced one milestone after another since she came to our recovery program in 2012, broken from two decades of drug use.
She worked hard for two years before graduating from the program in 2014.
Two weeks later, she reunited with a daughter she hadn't seen since she was a newborn.
Late last year, she passed the six-year sober mark.
And two weeks ago, she earned her GED after years of hard work!
"I'm going to college next," says a determined Mayra, who said in 2014 upon graduating from the program that it was "one of her dreams" to go to college.
Mayra once had no hope. She hit bottom when she slept in an abandoned building on Christmas Day before being arrested the next day. She didn't know then that she would soon start her journey to healing at City Gospel Mission.
Now she gets a shot at a dream.
Recovery staff members and other program graduates were right there to cheer her on when she donned a cap and gown again to receive her GED.
"It was nothing but God," Mayra says of her accomplishment.
Thank you for being God's hands by giving so generously. You helped the woman we call "sunshine" because she's always smiling, find hope, healing and purpose.