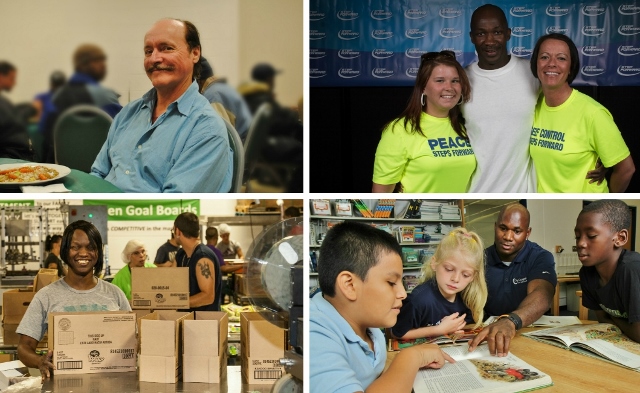 Welcome to our new blog! We've started this blog quite simply to shed light on the community we serve here at City Gospel Mission. Light cuts through darkness. It keeps us warm. It shows the path. It's our prayer that this little corner of the Internet becomes a spotlight, megaphone and magnifying glass for you and the public to understand more deeply this great battle to bring hope to the hopeless in a city that desperately needs it.
Every week you'll hear stories from the frontlines of our fight to break the cycle of poverty and despair in our city, a fight we've been engaging in since 1924, from the people directly ministering to those in need.
Just how badly does our city need light? Cincinnati ranks in the top 10 in the nation in number of residents living in poverty – 1 out of every 3 people – and is second in the nation in childhood poverty, with nearly HALF of all kids living in poverty. Simply stunning. Each of them needs a little bit of help, in some way. More than 21,000 men, women and children find that help with us each year, whether it's basic necessities like food and shelter, or recovery from addiction, or job placement or youth development.
And they all have a story. Nate, who slept on benches homeless but who now has his own apartment. Amanda, a former addict who healed her mind, body and soul through running. Debra, an older woman who landed a much-needed job to take care of her family when her husband died. Gary, the kid who lost all faith when his stepdad died only to regain it because a mentor cared about him.
Stories of hope and redemption. Of faith and transformation. At City Gospel Mission, we are privileged and humbled to serve a loving God. We are committed to pouring His love out daily. Over and over and over again we see people get a hold of God – and vice versa – and improve their lives, often in unbelievable ways. So we have started this blog because those stories deserve to be heard. They need to be heard in order for people to truly understand how dire things are but also how truly wonderful they can be.
You will not find a more enlightening place to hear our city's stories than right here on this blog. That's because we've assembled a diverse team of 10 passionate staffers across all areas of our ministry to tell those personal stories. This blog will be eye-opening and worth your while. You will be entertained, informed and inspired all at once. But above all else, you will be happy that you stopped by to have your day brightened by a little ray of good news. Thank you for visiting today, and please stop by again. God bless you!
Tim Curtis is the Communications Director at City Gospel Mission. He can be reached at tcurtis@citygospelmission.org.