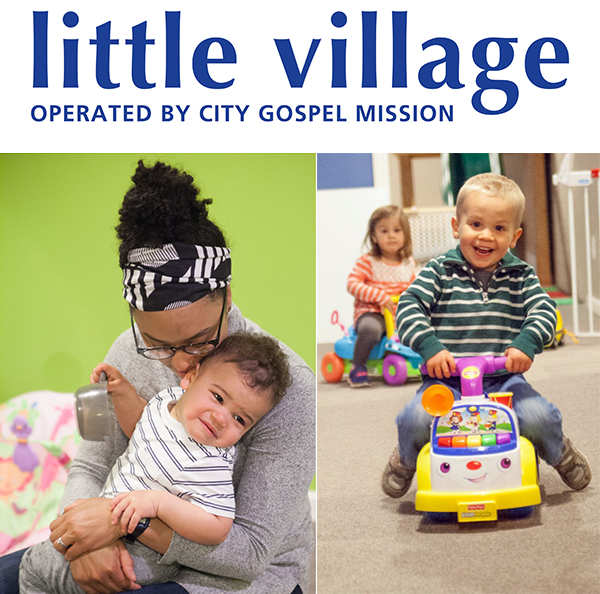 Did you know that 90% of developmental growth happens by age 5? Early childhood is the most prolific period of development for children. For children, learning happens through play and sensory experiences: seeing, hearing, tasting, smelling, touching, and movement. At the same time, parenting worry, stress, and loneliness during these early years can be overwhelming. This season of children's lives is the most fruitful and the most vulnerable. In an effort to walk with families through these early years, City Gospel Mission is excited to share about our newest program: 
This new venture will open in Westwood in early 2019. It will be a play space designed for fun, early learning, and community connection for families of children from birth to 5. There will be no charge to participate, and it will have flexible hours to meet families' schedules. This program will provide the opportunity for play, learning, and community relationships for families to thrive together.
At Little Village, there will be the chance for the littlest learners and their families to explore in a variety of playful areas.
Art Room – Children and caregivers can create messes and masterpieces of paint, Play-Doh, tissue paper, glue, and an array of creative materials at our child-sized tables and easels.

Science Center – A place to try experiments and play in environments that offer sensory materials and activities for little hands to be curious about the world around them.
Tumble Area  – For jumping, climbing, moving, and getting out lots of energy in fun and safe ways.
Construction Zone – So many children love to build for the whole point of knocking down. This area will offer a variety ways to build – blocks, LEGOs, logs,and stackables for builders to let skills grow.
Dramatic Play and Games  – This area will have costumes, play sets, puzzles, and more for children to enjoy different ways to imagine and play together.
Reading Room – This space will be filled with books and cozy places to sit so families can enjoy reading together.
Infant Space – In this area, the littlest ones can crawl, pull up, feel, and explore in a safe area just for them and their parents.
It takes a village
These play areas, and group activities, can be a great place for children to play and families to find community. It makes such a difference to know as a family that we are not alone; to find others whose kids enjoy the same thing and find that we are celebrating the same challenges together.
As the old proverb goes:
It takes a village.
We hope you will come find yours at Little Village.
Please consider supporting Little Village to get our program up and running by clicking here. 
Thank you!
P.S. What are you excited about children getting to play and explore with?
Melanie Gomez is the Little Village program manager at City Gospel Mission. She can be reached at mgomez@citygospelmission.org.