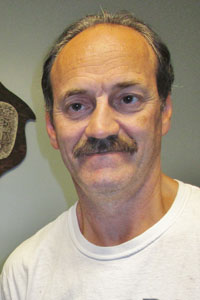 When Larry came to the Mission, he wasn't jobless or an addict. He just couldn't afford to pay all his bills and needed a place to stay.
He worked sporadically part-time for a landscaping company, and while looking for full-time work, stayed at the Mission. Larry says he saw a lot of guests who were simply working poor like himself who didn't have family and friends whom they could rely on.
Larry says he saw God at work at the Mission, giving people hope who had nowhere else to go.
"A lot people here are doing good," Larry said while a guest.
Larry worked hard in the kitchen every night to pay his weekly shelter fee. Guests pay $15 a week as a way to keep dignity. Those who can't afford it often work in the kitchen to pay for it, and this is what Larry did, cleaning dishes, mopping and doing whatever was asked of him.
He had a chance to go live with a family member, but finding full-time work and living on his own was his goal.
Thanks to the help he received with us, Larry says "I still have hope."