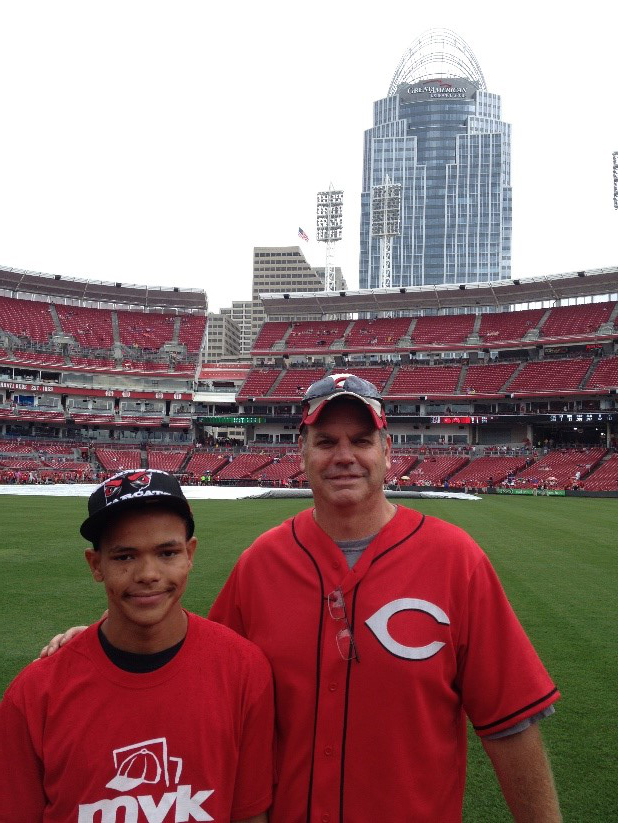 Most people don't speak favorably of a car with high mileage because they are aware of the wear and tear on the vehicle. They're aware that the vehicle has experienced many cold winters and unbearably hot summers, and at some point it will be less effective. Not so with mentors. Some of our mentors have spent many years supporting, encouraging, and pouring into their mentee; hence, their mileage is high. In mentoring, the more "mileage," the more credibility and influence.
Because January is National Mentoring Month, I would like to take you back to 2008, when Steve and Israel first met. Israel was in our Whiz Kids tutoring and mentoring program at Pleasant Hill Academy. It was surprising for Steve, his tutor, to learn that Israel's father was incarcerated (in another city), and Israel was having disciplinary issues at school. Steve continued to tutor Israel throughout elementary school. When Israel left Pleasant Hill and became a student at Western Hills High School, Steve decided to become his mentor.
Soon after mentoring began, Israel's father was released from jail and wanted to be involved in his son's life again as a father, but he realized he was not ready. At that time, Israel's mom decided to move to St. Louis, which meant Israel, too, was also on his way to St. Louis. There was no preparation for this moment. Steve was in his office when he received a brief, yet heartbreaking phone call from the young man he had been a friend to since 4th grade. On that call, Israel simply said, "Mr. Steve, I just want to let you know that I'm on my way to St. Louis." Steve told Israel that he would continue to pray for him and that he could still call him if he needed to reach him. And his mentee left.
Steve was uncertain of future interactions with his former mentee because distance now separated them. But to his surprise, Israel called him nine months later on the same phone number he had known for years and said, "Mr. Steve, We're back in Cincinnati … would you mentor me again?" Upon his return to Cincinnati, Israel had moved in with his father. This is when something clicked for his mentee.
So many significant changes have taken place in Israel's life in the past 1 ½ years, and Steve has been there every step of the way! Just to name a few things – Israel made the honor roll recently, played high school football, received the Brave Award at school, got a job, opened a checking account with Steve's help, applied to Cincinnati State, and now attends and serves alongside Steve on the First Impressions Team at Crossroads Church. The capper: Israel was baptized last May!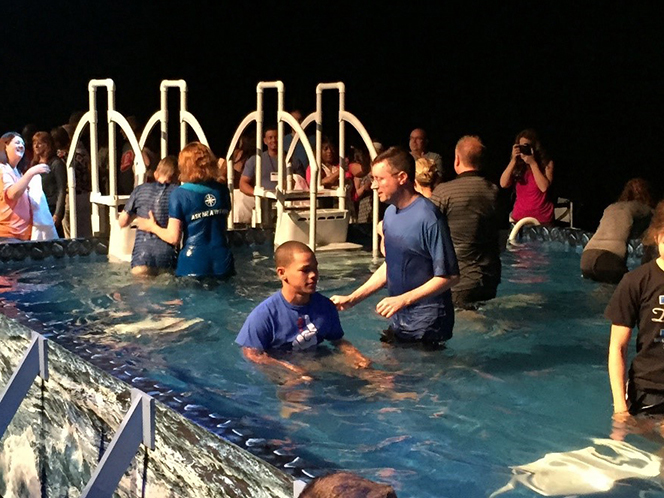 Steve has many memories of the peaks and valleys of this journey, one valley being a time when he sat weeping in his car because he learned of a significant need the family had and wrestled with how it should be met. God provided a solution on that day and has continued to provide answers when he's had difficult choices to make as a mentor. One peak came last year when they attended church and the pastor asked everyone to text someone who has had significant meaning in their life. Steve received a text from Israel (who was sitting right next to him) saying, "You want to do something next weekend? You were my first friend in my life. I'm happy you are my friend. I love you."
Mentors with high "mileage" have experienced discouragement, frustration, joy, sadness, and excitement as they have traveled with their mentee. This is a beautiful story of a mentor and mentee whose relationship has stood the test of being separated by hundreds of miles, and to God's glory and with God's help, they are still going! Steve earnestly believes that Israel has given more back to him than he has given to Israel.
This January, and all year long, we celebrate the more than 100 mentors at City Gospel Mission who are making a difference in the lives of at-risk youth. Thank you for the mileage you've all been willing to put in.
Precious Jones is the Youth and Mentor Development Director at City Gospel Mission. She can be reached at pjones@citygospelmission.org.