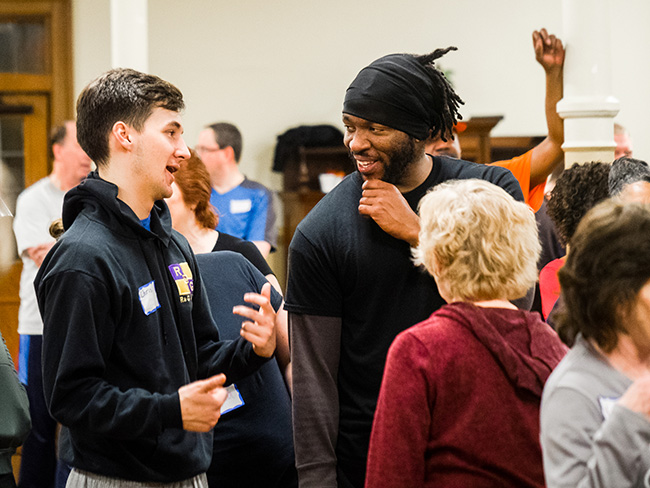 As our Step Forward season kicks off, Demetrius has been blown away by the support of the team's volunteers during his journey of recovery.
"For a long time, I saw help as a sign of weakness. To have the volunteers come beside me & cheer me on & give me encouragement … it reminds me of a Scripture – 'In my weakness His strength is perfected.' "
Step Forward is off and running, and this year, we're hitting a new gear. We had over 150 people at our first kickoff practice, including over 60 brave souls going through addiction recovery with us and nearly 100 volunteers. It's our largest team ever.
We've experienced incredible growth since the program started in 2007. And as testified by our recovery staff, the program has been a vital part of the reason more people than ever are graduating the program and remaining sober (over twice the national average).
Because of that, we're taking Step Forward full-time. Director Dave Pinson now will focus on directing the team year 'round as we train not only for the Flying Pig races as we've done but also many other events!
So we need partners more than ever. More volunteers to encourage men and women by running and walking with them. Our expenses – for clothes, race entry fees, equipment, travel, etc. – are increasing, so we are praying for generous donors to bless our leap of faith to go deeper in helping recovering addicts to truly change their lives forever – physically, mentally and spiritually.
Here's what some program participants said at practice:
"Look at all the people here. They are here for me!"
"I heard of this team from other women in recovery who were here last year. I am finally doing this, and I like it."
"The volunteers help me feel normal, like I'm one of them."
Please join us in showing God's love to these men and women who need it. You will bless them, and be blessed at the same time. And you will be an important part in our collective fight against a devastating drug epidemic. This program works, and you WILL change lives.
For questions or more information, contact Dave at dpinson@citygospelmission.org or 513-377-5650.
Tim Curtis is the Communications Director at City Gospel Mission. He can be reached at tcurtis@citygospelmission.org.