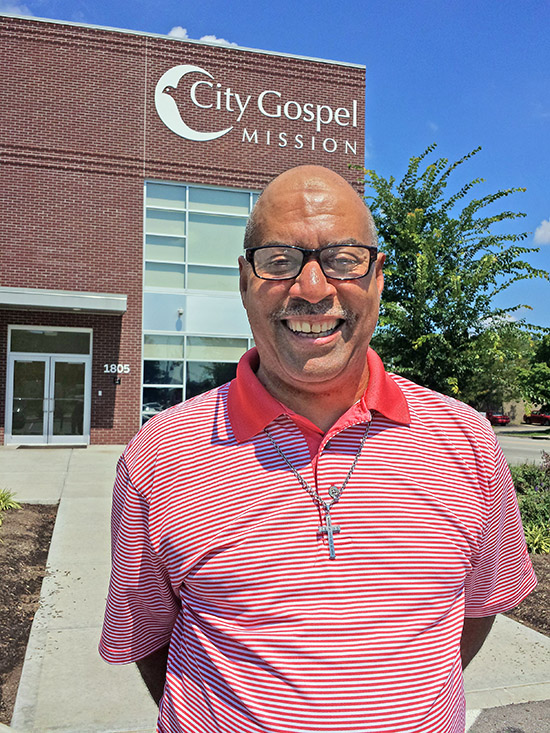 As he bounced from place to place – staying in shelters, with a friend, with a cousin – Daryl grew so depressed he wanted to end his life. "I came close to stepping in front of a car and ending it."
But God had plans for Daryl. Plans to truly prosper him and not to harm him. And Daryl is listening.
"I have realized this place, City Gospel Mission, was a foundation," he says.
Since November 2015, Daryl's life has gradually been restored. After a long battle with drugs and alcohol that saw him mostly absent from his three daughters' lives, his family is being restored, too.
Rebuilding relationships
While in the shelter, he learned about the death of his oldest daughter – hit by a drunk driver. "I couldn't stop crying," he says.
Now, he's determined to be active in the lives of his daughters, and especially in the lives of his grandkids. He is determined to be there for them and has steadily rebuilt those relationships.
"I hadn't been in their lives in years. But they still have unconditional love for me. I was like, 'Aren't you upset with me? Aren't you disappointed?' And they're like, 'No.' "
So when he finally began thinking of moving out of the shelter after getting a job as a community facilitator with City Gospel Mission and saving enough money, his struggling youngest daughter came to mind. Not just because she and her four kids live in a bad neighborhood and he wants to get them out of there. But because he wants to be there for them.
"When the Lord put that in my spirit, it was stamped," he says.
From homeless to hopeless to hope to home
He recently signed a lease to rent a house in a good neighborhood. He will leave the shelter in October. "When I asked my daughter if she wanted to move in with me, she was like, 'Yeah, daddy, I would like that.' This is where God wants me. I have something to do the right thing for."
Daryl didn't always do the right thing, particularly after his mother died when he was 19. His father was never in his life. He never knew his grandparents.
"A lot of years I was just in the enemy's camp, not even realizing how deep. I was just out there in the streets, no sense of responsibility. Drugs was my first family."
It has been a long road for Daryl, but he's making amends. Taking classes at the shelter was key. "It gave me my self-worth back. This place and the people here really saved my life. The case managers, instead of telling me what to do, they asked what my goals were. That made me feel good. And made me be accountable. I'm a prime example of what's possible for other residents. I tell them, 'You can get it, too.'"
Is this 56-year-old ready for four kids – 1, 5, 8 and 9? "Oh yeah," he says, laughing.
Trust and belief
But he knows he needs God's help. So he has been taking the kids to church.
"I told God, 'I'm throwing my hands up, I'm going to trust and believe in You. I'm scared, but I'm going to believe you're going to make sure things work out.' "
His daughter is working two jobs and making sure her kids are going to a good school. Now they have a safe place to call home.
"My hopes for them is that they treat people with respect, graduate and go to college. That's my dream for them. And instill in them as much God I can. They need it. That's my job. I can't let them fall by the wayside."
Tim Curtis is the Communications Director at City Gospel Mission. He can be reached at tcurtis@citygospelmission.org.