An Event to Benefit Princesses Ballet
The 2020 Evening of Dance event date is to be determined. Please check back for details at a later time.
2019 Evening of Dance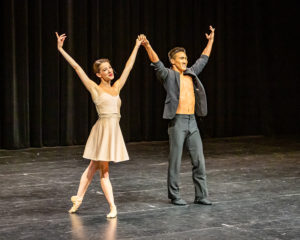 An Evening of Dance 2019 was a success! Over 250 guests came out to show their support of Princesses Ballet on Friday, August 2nd at the Patrica Corbett Theater at CCM. The gracefulness and talent of our Princesses Ballerinas and guest performers Jim Nowakowski and Caitlin Valentine-Ellis was on full display and wowed the crowd all evening.
Special thank you to So Danca, Darryl Havens, Performance Lexus, Dance Flash Fusion, Char Lindner, Sound Press LLC, dancer sponsors, our supporting cast of volunteers, photographers, and administrative team for helping make this event possible and furthering the mission of helping girls in Greater Cincinnati gain confidence through dance and faith.
If you took photos at the photo booth, your photos will be emailed to you, and will also be available on the event Facebook page.
Sponsorship
If you would like to do something truly exceptional for our dancers, you can sponsor a dancer for $380, or $32 a month. For more information on sponsorship opportunities, please download the 2019 Princess Ballet Sponsorship Form or make an online payment here. Thank you for your generosity!
In the News
Princesses Ballet Transforming Lives Through a Love of Dance
About An Evening of Dance
This annual special event features artistic performances by City Gospel Mission's Princesses Ballerinas. All proceeds help fund City Gospel Mission's Princesses Ballet program.
Princesses Ballet was created to build character, grow self-esteem and teach the value of teamwork and work ethic. Princesses Ballet has been a model of success in helping at-risk girls break the cycle of poverty for over 13 years. Today the program serves more than 500 girls, delivering over $600,000 in free dance lessons and dance camps to underprivileged girls.
To learn more about the event, please contact Jessica Hamm at jhamm@citygospelmission.org.
Special thanks to our sponsors!
Presenting Sponsor:

Community Partner:

Investor Sponsor: