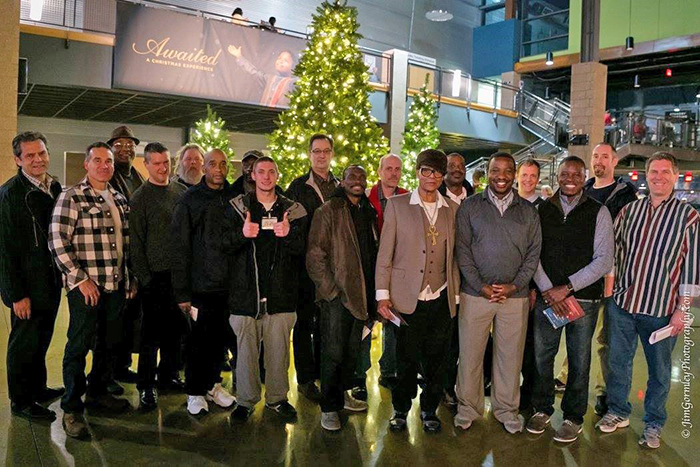 Awaited means "to wait for, expect, or look for." It could also be defined as "to wait in expectation for something imminent." In Cincinnati, each year thousands attend Awaited, the Christmas experience performed at Crossroads Church. It tells the story of how a Child was born in a manger from the perspective of the angels. This very special child, Jesus Christ, was first revealed by angels to shepherds who were tending their flock. In first century Palestine, these shepherds are depicted as men who were living on the margins of society. Shepherds were poor and spent many nights outside – which could easily describe any homeless person. Homeless people have often been ignored in our culture. Many have been excluded from society and left to fend for themselves on the streets. Many hold signs on our streets but remain invisible. They await some kind of help with a sense of hope.
Well, at City Gospel Mission's homeless shelter, that hope is being realized by those living on the margins. In one small but transformative initiative, our shelter guests joined with staff and others to experience Awaited. This excursion was a time of bonding, fellowship, friendship, and hope. There was a sense that something imminent was going to happen in the hearts of those who went to the show. With every segment of the performance each shelter guest clapped and exulted in joyous excitement. It was a thrill to see those living on the margins celebrating the birth of this wonderful Savior who was first revealed as a redeemer for those marginalized. After the show, each guest said it was a transformational experience.
In Awaited, the focal point is the manger. The pivotal scene comes when the music crescendos to a halt, all lights are turned off, and the main spotlight zeroes in on the manger in its central spot on stage. Our shelter endeavors to point out how Jesus Christ is the Great Shepherd who identifies with those on the fringes – healing all the pain, apathy, contempt, rejection, defeats, losses, and unimaginable challenges that litter their journeys in poverty. The manger shows all humanity that we are all living on the margins in one way or another. The bond of friendship and fellowship cuts across our differences. As we celebrate the Christ-Child this Christmas, may that manger become a real focal point in the hearts of God's people.
Herman Najoli is a Homeless Services Case Manager at City Gospel Mission. He can be reached at hnajoli@citygospelmission.org.