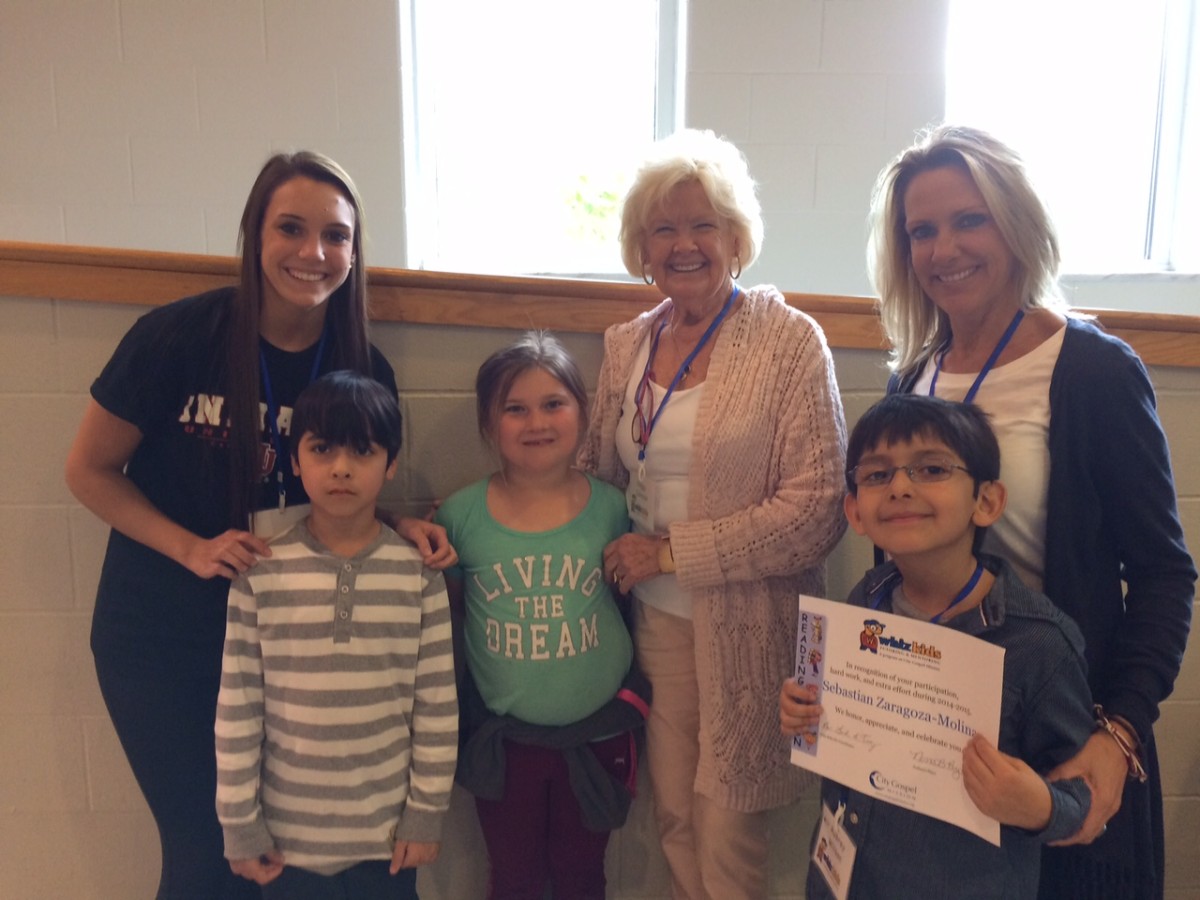 For Peggy Johnson, serving as a Whiz Kids tutor is a family affair. Never is this more evident than every Monday at 4 p.m., when Peggy (middle in photo), her daughter, Tracey Hardwick (right in photo), and granddaughter, Lacey Hardwick (left in photo), tutor at-risk students at J.F. Burns Elementary School in Maineville. Each tutors a student for one hour per week. Tutoring sessions consist of reading, relating, and sharing the love of Christ. In Peggy's case, it is one family having an impact on three kids and their families.
"We love serving the Lord together, but this is especially significant because we get to do it week after week. We really get to know these kids," Peggy says. Her Whiz Kid, second-grader Maddie, says she always looks forward to seeing Peggy. Maddie claims their Whiz Kids Christmas party was the highlight of the year, because she and Peggy made a gingerbread house together.
Tracey loves to tutor near her mother and daughter. "I get true joy not only reading with my Whiz Kid, but watching my mother and my daughter connect with their Whiz Kids as well," Tracey says. Her Whiz Kid is first-grader named Sebastian. "I like to read and play games with my tutor," says Sebastian, who also invited Tracey to his birthday party. Adds Tracey, "His hugs are the best part of my week."
High School student Lacey echoes the sentiments of her mother and grandmother. "I love to serve, and especially with my family. With my brothers going off to college soon, volunteering at Whiz Kids makes it even more special," Lacey says. She tutors first-grader Doniyor, who, when asked what he likes most about Whiz Kids, says, "Everything!" Lacey adds, "When I first started meeting with Doniyor, he was very shy and said very little. To watch him come out of his shell week-by-week has been amazing!"
At the J.F. Burns end-of-year party, Maddie, Sebastian, and Doniyor's families joined the three generations of tutors for the celebration. They ate Chick-fil-A sandwiches, played games, laughed and took pictures. Even though this ministry is called Whiz Kids, this scene was another example of how tutors and churches connect with entire Whiz Kids families.
1 family + 3 kids = Many Changed Lives … How's that for new math!
Doug Dunlap is the Director of Tutoring for the Whiz Kids tutoring & mentoring program at City Gospel Mission. For information on Whiz Kids, contact Doug at 513-345-1038 or ddunlap@citygospelmission.org.